Encinitas California – A Coastal Beach City in Southern California
By almost a So Cal native Charles L Harmon
If you are looking for a classic American beach, Encinitas California should be on top of your list. This relatively small beach town specifically lies at the northern end of San Diego County in Southern California, which is known for its beach culture. Encinitas is definitely a "surfy" spot attracting the young and adventurous.
But it is also a great family vacation destination because of its many excellent attractions and gorgeous beaches. Many visitors to Southern California go to Los Angeles. As a side trip lots also go to San Diego. If you're one of those be sure to stop in Encinitas on your way to San Diego, Its right off Interstate 5 Freeway.
Some City Stats
Located in Southern California, Encinitas is approximately 25 miles north of San Diego and about 95 miles south of Los Angeles. As of the 2010 census, it had a population of 59,518. Encinitas is a Spanish name meaning "little oaks." According to the United States Census Bureau, Encinitas has a total area of 20 square miles.
Being within a stones throw of the Pacific Ocean, Encinitas has a very mild, Mediterranean climate with an average daily high temperature is 72 °F. There is only one main industry in the city and that is the growing of ornamental flowers, mostly poinsettias.
Some city Attractions
One of its prominent attractions is the La Paloma Theater, which has hosted surf film premiers in the last 84 years. Encinitas is home to some of the oldest and most prestigious surf shops like the Leucadia Surf School in the United States. Strolling around the town's shopping district is a lovely experience as it is filled with historic buildings as well as lovely shops and cafes. But if you are not interested in shopping, consider dropping by the Quail Botanical Garden, which houses tropical rainforests plants including a large collection of bamboo.
Go to the Beach or go Surfing
To get some surfing action, head out to Moonlight State Beach, a favored sandy stretch among surfing fanatics. This wide and flat beach, which is located at the end of Encinitas Boulevard, accommodates a wide variety of surfers. For the more advanced surfers, the beach's southern and northern ends are perfect; while the central part facilitates surfing novices.
Moonlight was named such because of the midnight picnics that local residents used to have on it during the early 1900's. It is equipped with fire rings, a snack bar, recreational playground, bathrooms, volleyball and tennis courts. So, it is not surprising that a number of visiting families choose to hang out at Moonlight all day long.
Another popular beach is Swami's. And if you are already in Swami's vicinity, you should also drop by the Self-Realization Fellowship locale, which is known for its koi ponds and new age gardens for meditation. This locale has been a spiritual symbol for Encinitas. Just adjacent to the Swami's parking lot is a small park called Sea Cliff.
If you want to take a break from sandy stretches, this park is a great place to commune with nature. Here, you have available spaces for barbecues and picnics. The one-mile Boneyards is another excellent surfing spot, which can be accessed via D Street.
If surfing is your purpose for visiting Encinitas, then plan your visit during fall, when big swells are rolling in, and favorable wind conditions and water temperature are at its best. The nearest international airport to Encinitas is in San Diego. From here, you can easily drive to this beach town, which is just off the Interstate Highway 5.
Another option is to get on the regional coaster rail line that runs between San Diego and Oceanside. You just need to get off at the Encinitas station situated downtown.
Other Points of Interest
The San Dieguito Heritage Museum and Lux Art Institute are located in the city. Other points of interest include the San Diego Botanic Garden, as well as the gardens which are routinely open to the public. Surfing is a popular activity in Encinitas, particularly at Swami's, mentioned above, which is rated in the top 5 surf locations in the world, and is mentioned in a verse of The Beach Boys' song "Surfin' U.S.A." Encinitias has one of California's classic downtown areas along historic Pacific Coast Highway 101.
Encinitas can easily be explored on foot as the beaches, restaurants and shops are close to each other. There are 47 acres of beaches and 40 miles of trails. If you don't want to tire your feet, you can also rent bikes or take local buses. There are over a dozen parks and several trails for the adventuresome. For a relatively small city, Encinitas California has at least beaches. It's been a while since I've been there, but I've heard it actually has eleven beaches, one of which will certainly meet your needs.
---
ENCINITAS CA ~ California coastal beach town
Uploaded to Youtube on Jul 18, 2012
I drove along the California coast for a couple days. I saw some interesting towns, state beaches, locals hanging out, tourists enjoying the beaches and sun. I shot some video footage, did some photography work, metal detecting (after hearing of a Spanish ship loaded with treasure from Manila Philippines) shipwrecked long ago in the area). The Fisher Gold Bug 2 did better in the sands that I expected. I was hungry after that, found a burger joint called Angelo's, good cheeseburgers.
Encinitas California seems a bit small, because you can be driving along and suddenly you're not there anymore, off into another coastal town. I'm sure it has more people than my impression.
I thought of this town from George4title talking about it lately. Anyway, it is very beautiful, as is most of the drive up from San Diego toward Los Angeles CA.
Surfing is popular in this coast town, surfing classes, young people practicing on the small waves, lots of surf shops to buy surf boards and all you'd need. Also some how to surf schools, teachers, instruction classes.
One thing that caught me by surprise was the numbers of lonely women, especially at night, they were very much 'looking'.
Like Nowhere Else – Encinitas
Uploaded to Youtube on May 23, 2012
Spent a couple days filming for fun around Encinitas. Come to Encinitas and enjoy the sun fun a D-vitamins!
View the pictures and read article above BEFORE taking quiz.
Take this quiz about Encinitas California and see what you've learned or remember.
Quiz #90 Encinitas California - A Coastal Beach City in Southern California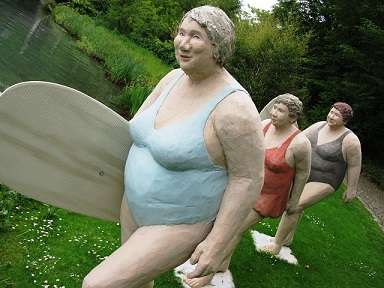 This Travel Quiz is about Encinitas California – A Coastal Beach City in Southern California. There are five questions, mostly true or false. The level of this quiz is easy.
Answer all questions. Each answer is worth about 10 points. If you don't know the answer, then take a guess (unless you want a guaranteed zero for the answer).
This test is timed (2 min) so be aware of that.
Encinitas California is a potential city you might want to visit if you are in the Southern California area.