Laguna Beach California – The Ultimate Holiday Destination
Here is a great place to visit if you are in Southern California. If you are in Los Angeles then Laguna beach is maybe about a third of the way down to San Diego along the Pacific coast. The climate is great and not nearly as hot as the inland areas of the state in the summertime. A great example of this is today as I am writing this it is 91 degrees here in Lake Elsinore, but only 85 in Laguna Beach, which is 57 miles from here when driving on the Freeway or 25 miles by air. often it is a 30 degree difference in temperature in the summer on hot days here.
Ever wondered where those gorgeous Californian girls in skimpy bikinis and toned surfers with boy-next-door looks can be found? Well you can certainly find plenty of them in renowned Laguna Beach, at the south coast of California USA. This comes as no surprise as Laguna Beach is home to a total of seven miles of stunning beaches as well as amazing sunsets. Aside from beach goers enjoying a scenic Pacific coastline; avid surfers and skim boarders from all over, make their way to the coves of Laguna Beach because of the huge waves generated here.
Some of the notable sandy stretches in Laguna Beach include the Main Beach, situated in the heart of the Laguna Beach and the unique Thousand Steps Beach. Access to the public beach actually requires climbing down only 218 steps and not thousands. Still, the effort is well worth it, as you will be treated to a lovely sea view and rolling waves perfect for body surfing.
Laguna Beach is a seaside resort city located in southern Orange County, California, United States, approximately 19 miles (31 km) southeast of Santa Ana, CA. Laguna Beach is known for its mild year-round climate, scenic beaches and coves, and artist community. The population in the 2010 census was 22,723. Tourism is the primary industry with an estimated 3 million people visiting the community annually. Annual large events include the Pageant of the Masters, Festival of the Arts, Sawdust Festival, Art-A-Fair, and Kelpfest.
Because tide pooling happens in areas like Picnic Beach, Shaw's Cove and Crystal Cove State Park, there are plenty of opportunities to marvel at the fascinating marine creatures living in the waters of Laguna Beach. But if you don't want to go diving or snorkeling; you can still view lovable marine mammals up close at the Pacific Marine Mammal Center. Other outdoor activities to keep you busy while in Laguna Beach include kayaking, whale and dolphin watching excursions.
The Laguna Coast Wilderness Park is one of the premier family-friendly attractions in the city. Aside from possessing some of the finest beaches in the region, this is a perfect spot to do some adventurous trekking. Majestic views of the Pacific Ocean are within your reach when you take a walk to Heisler Park. Here, you will find a lovely gazebo, more tide pools and Rockpile Beach with its surfing-worthy waves.
Beside the laidback beach life, you may be surprised that Laguna Beach has a flourishing art scene. This fact is quite evident when you visit the Laguna Art Museum, which features a great collection of artwork by several homegrown artists. Some of the artwork dates back to the 19th century. Laguna Art is one of the oldest museums in the state, and is a symbol of the long history and diverse culture of Laguna Beach.
Speaking of oldest, the city also houses the oldest operating theater on the west coast – the Laguna Playhouse. This special theatre has been in operation for 90 years, and is renowned for staging award-winning shows and plays year round. There are number of art institutions in the city, which makes it even possible for you to take art classes, facilitated by a renowned local artist.
Laguna Beach boasts a wide range of accommodation, from beachfront hotels, luxury resorts and charming cottages. Before leaving this bright Californian city, shop for some gifts and souvenirs at the Forest Avenue, home to a nice collection of boutiques, home furnishing shops and jewelry stores.
To reach Laguna Beach, you can fly to the John Wayne Airport, which is around 16 kilometers from the city center. The Los Angeles International Airport is farther, but it facilitates more international flights. Aside from rental cars and taxis, the city is also served by the Mainline Transit bus service network
View the pictures and read the above text BEFORE you take the quiz.
Quiz #70 Laguna Beach, California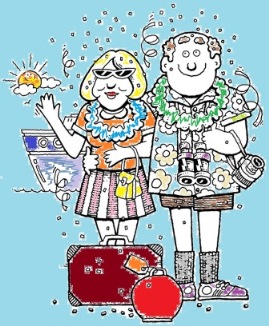 This Travel Quiz is about Laguna Beach – Holiday Destination. This is a True or False quiz. The level of this quiz is easy.
Answer all questions. Each answer is worth about 10 points. If you don't know the answer, then take a guess (unless you want a guaranteed zero for the answer).
This test is timed (2 min) so be aware of that.
Laguna Beach is an upscale city you might want to visit if you are in Southern California.


To learn more about a city or area in California click any of the links indicated below which will take you to our main travel site.
Los Angeles
San Diego
Monterey Peninsula
Inland Empire
Southern California Attractions