Read about Hanalei Bay in Hawaii. Learn something about the Bay. Take the easy quiz.
Visit the Breathtaking Hanalei Bay of Kauai Hawaii
Hanalei Bay Beach has time and time again been rated one of the best beaches in North America. It is situated in Hawaii's island of Kauai North Shore, specifically along Weke Road and around the Napali Coast's corner. Being Kauai's largest bay, Hanalei also claims a postcard-worthy backdrop of luscious valleys, high peaks, and volcanic cliffs adorned with waterfalls.
This two mile white sand beach forms a crescent shape, and boasts very clear turquoise water that is teeming with colorful sea creatures and incredible coral reefs. Overall, Hanalei Bay will surely take your breath away. The great thing about this beach, even though it's a favorite destination for both locals and tourists, is the absence of excessive development, which allows it to maintain its natural beauty. When you come here, you are guaranteed to have plenty of space to lie on the beach and watch, quietly reflect and enjoy the scenery.
When you visit Hanalei Bay during summer, you will not only enjoy great sunny weather, but you will also love the calmness of the water. Bathing at this time is like being in a large swimming pool. In order to truly maximize your stay in Hanalei Bay, plan a whole day stay at this beach and get that much needed sunbathing or play beach sports like volleyball and Frisbee. Summer is also the best time for activities like canoeing and kayaking. If you want a romantic time, hop on a sailboat and glide into an incredible sunset.
During the winter, huge waves and breakers are generated which are perfect for activities like windsurfing and surfing. If you have not done this the waves may inspire you to learn surfing. Fortunately, there are a couple of surfing schools where you can get instruction and rent gear. The water at the beach on the north shore area can get very rough during winter, rendering it unsafe for swimming. If this happens, you can venture out to the bay's western most curve, where the water is relatively calmer.
One outstanding feature of Hanalei Bay Beach is that it offers visitors some convenient amenities like parking, showers and toilets. It is also the ideal beach to bring your family to as there are shady areas with picnic facilities and pavilions. The beach administration prioritizes safety by stationing lifeguards on duty on a regular basis.
The beach is not the only attraction in Hanalei Bay. In fact the Bay area is surrounded by one-lane bridges and trails that lead to charming towns and other parts of the coastline. On the beach shore, you can find the lovely village of Hanalei. Here, you can explore the various surf stores, galleries and gift shops, and dine in one of the casual restaurants, which populate on both sides of the main two-lane highway. There are also a couple of options when it comes to accommodation. You can choose anywhere from luxury resorts to bed and breakfasts depending on your budget. The pace of life in Hanalei village is slow and laidback, and you will find the people nice, friendly and always smiling.
The bay area houses three parks, namely Black Pot, Hanalei Pavilion and Waioli. At the eastern section of the beach lies the Hanalei Pier and the Hanalei River. If you love the game of golf be sure to head out to some of the courses situated on the other side of the river. When visiting Hanalei Bay be sure to bring your camera. The natural beauty of Hanalei Bay in Kauai Hawaii begs to be photographed.
View the pictures and read article above BEFORE taking quiz.
Take this quiz about Hanalei Bay of Kauai Hawaii and see how much you've learned or remember.
Quiz #9 Hanalei Bay of Kauai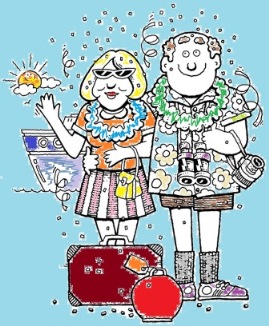 This Travel Quiz is about Hanalei Bay of Kauai Hawaii. There may be clues clues to help guess the answer or some or all of the questions may be True or False. The level of this test is easy.
Answer all questions. Each answer is worth about 10 points. If you don't know the answer, then take a guess (unless you want a guaranteed zero for the answer).
This test is timed (2 min) so be aware of that.
You might want to visit Hanalei Bay of Kauai if you are going to Kauai Hawaii. There are beautiful sights and like the rest of Hawaii the weather is nice, especially compared to colder and hotter places in the US.


To learn more about Hawaii click any of the links below which will take you to our main travel site.
Click Start Quiz below to take the quiz.
Hawaii – a Popular Vacation Destination
Beauty of Molokai
Maui a Natural Wonderland of Hawaii
Do you have travel perception? Buy my TravelPerception.com and I'll build you a simple travel website. CLICK HERE.