Falling in Love with Caracas Venezuela
Venezuela's capital city, Caracas, is a high plateau with lush, gorgeous mountains on one side and the wide sea on the other. However, this is not the first thing that hits tourists when they first arrive.
Most noticeable are the numerous skyscrapers that shoot up from a bed of low-rise buildings. No doubt, this city is an urban jungle with an accelerating economy. Not only that,  Caracas Venezuela is also rich in so many other ways – culture, art and history – that it's unfair to just lump it all along with other rich, oil-producing countries elsewhere in the world.
Fall in Love with Caracas
There is no other city in the country with this kind of cultural diversity. Caracas is an amalgam of different cultures held together by a singular love for good food, music and salsa dancing. Here, you are just as likely to find a street food vendor selling freshly cooked tamales, as you are to enter an electro-pop club filled with upper class Caraquenos, or the locals. There really is an eclectic mix of restaurants, pubs, bars and clubs in this city – all you have to do is choose your poison.
Go out a bit early and have fun bar hopping before you actually choose one club where you'll drink and dance all night long. Salsa dancing clubs are ubiquitous in the city and it is here that you meet Caracas' biggest party animals. Make sure to dress up appropriately, know your alcohol limit and behave nicely – Caraquenos may have the devil-may-care attitude that is typical of Latin America, but they still prefer their dance partners to have a bit of finesse.
Eat and Be Merry
At 3 a.m. when you're exhausted from all the partying, there is nothing better to eat than an arepa –savory bread made of corn flour that is filled with meat, vegetables and dressing. It is the staple food of Venezuela, very much like India's naan. Many variations are available and most of the time customers are allowed to build their own arepa.
However, the most common combination is probably the Reina Pepiada, which is filled with chicken, avocado, mayo and spring onions. This is perfect after-club food when you need something in your grumbling, cocktail-filled belly.
Anytime you feel you want a steak dinner, there's Aranjuez. It is one of the oldest steakhouses in Caracas serving top quality Argentinean and Venezuelan beef cuts. Each portion is cooked to order and according to diner instructions. Complement the delicious beef with a full-bodied wine and you are on your way to a wonderful evening.
What's the Weather Like
Caracas' weather is warm and tropical, with temperatures at around 22°C. The climate is what many refer to as "eternal summer" because the city only receives a bit over 900mm of rain each year. Feel free to wear light, breathable clothing and don't worry too much if you forgot to bring an umbrella. Storms are not that common so you don't have to fret about a sudden downpour as you are exploring the city.
For a breath-taking view of Caracas Venezuela, a trek the Avila mountain to the north of Caracas is highly recommended. The most popular entry point is Sabas Nieves, which accessible by bus from Altamira. If you opt to reserve your energy, take the Teleferico, which is a cable-car. Avila is best-enjoyed early, before an afternoon haze obstructs your view from the mountaintop.
---
Caracas in Motion [ TimeLapse ]
Published to Youtube on Mar 8, 2012
View the picture and read the above text BEFORE you take the quiz.
Take the quiz and let's see how good you are at this quiz about Caracas Venezuela.
Quiz #82 Falling in Love with Caracas Venezuela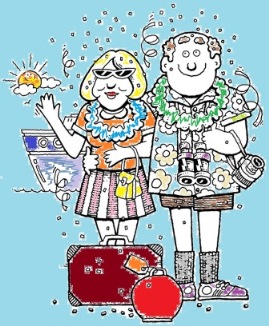 This Travel Quiz is about Falling in Love with Caracas Venezuela. This is a true or false quiz. The level of this quiz is easy.
Answer all questions. Each answer is worth about 10 points. If you don't know the answer, then take a guess (unless you want a guaranteed zero for the answer).
This test is timed (2 min) so be aware of that.
Caracas Venezuela is a potential city you might want to visit.


Take this quiz first. Panama is a sister city of Caracas. Click Here to read and learn about the Panama Canal.