Situated in the Wallacea Region of Indonesia, Komodo National Park is hailed a World Heritage Site and a Man and Biosphere Reserve by UNESCO.
Its rich biodiversity and lush natural beauty will captivate the nature lover in you. The National Park covers three major islands, which are Rinca, Padar and Komodo.  The park also encompasses other smaller islands that are scattered around the Flores Sea. Komodo Island, in particular, is known to be the home of the descendants of former convicts that were exiled here.
The Komodo Dragons
You may enjoy seeing a variety of animals in Komodo National Park, but the highlight of your visit has got to be the creature the park was named after. The Komodo Dragons, also known as the Komodo Monitors, are the largest existing lizards in the world, and they have been living peacefully in the park's main islands. Here, they are completely protected so their population has been steady for many years.
The Komodo Dragons are wonderful interesting reptiles that can weigh up to 150 pounds and can reach a height of almost 10 feet. It has been a tradition not harm the dragons. Instead, the locals are used to feeding them by leaving some deer meat on the ground. Unfortunately the dragons are fast becoming extinct in other parts of the world. Thus, visiting the park and seeing these huge lizards in their natural environment is a privilege indeed.
Komodo Dragon watching tours is the main tourist activity in the park's island. But be aware that the dragons are carnivores and are natural predators.  They also hunt in groups and prefer deer meat. So, they can be dangerous and still have the tendency to attack a human. Local tour guides have a lot of experience when dealing with them, that is why visitors are only allowed to have locally guided tours for their protection and safety.
Marine Diversity
Komodo National Park also encompasses a very rich marine environment. It has more than 1000 species of fish and over 200 coral types that create reefs. Large fascinating creatures like manta rays, sharks, giant turtles, dolphins and whales also frequent the waters of the national park. Thus, it is not surprising that the park is also getting more attention from the diving community.
There are a couple of world-class diving sites that boast great diving conditions and visibility in Komodo National Park. Its remote location also adds to the appeal of diving here. It is common to having scuba diving daytrips around the park's protected waters. Another option is to go on liveaboards, which are mostly based in Labuan Bajo community.
Getting There
You can reach Komodo National Park through the ferry service that goes to and from Sape City and Labuanbajo.  Komodo Island has no proper port, so you need to transfer to a smaller boat to reach the island's villages. Before you can go on tours and engage activities such diving and snorkeling,   you will need to purchase the suitable permits at the park's headquarters. To explore the islands, the most convenient way is to charter a boat as regular public connections by sea are not available.  Once on the islands, expect to do a lot of walking as there are no motor transports or roads.
Quiz #75 Adventures in Komodo National Park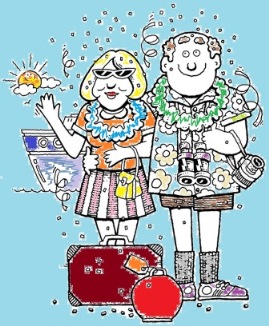 This Travel Quiz is about Komodo National Park. This is a true or false quiz. The level of this quiz is easy.
Answer all questions. Each answer is worth about 10 points. If you don't know the answer, then take a guess (unless you want a guaranteed zero for the answer).
This test is timed (2 min) so be aware of that.
Komodo National Park in Indonesia is a potential park you might want to visit if you are in the Wallacea Region of Indonesia.