Camp out in Black Ridge Canyons Wilderness but first read about it then take the easy quiz.
Locate Black Ridge Canyons Wilderness (BRCW) Area
The Black Ridge Canyons Wilderness (BRCW) is located in a western state with a small portion extending into the eastern part of another state in the USA. Elevations range from 4,700 feet above sea level along the river to 6,800 feet. Canyons vary in length from several miles to twelve miles in length and may contain interesting side canyons. Geological features in these canyons. Some of the features include spires, windows, giant alcoves and desert varnish.
Canyons may reach a depth of almost 1,000 feet, forming spectacular red rock cliffs. Spring runoff and summer thunderstorms create glistening waterfalls and plunge pools. Rattlesnake Canyon contains the second largest concentration of natural arches in the country. Mee Canyon is even more remote, and contains Arch Tower.
Wildlife viewing may include deer, mountain lion, desert bighorn sheep, along with golden and bald eagles. Vegetation in the meandering canyon bottoms includes grasses, pinyon, juniper, cottonwood, willow and box elder. The upland mesas contain dense stands of pinyon and juniper with some sagebrush parks. The wilderness area is 75,439 acres of which 70,319 acres are in the easternmost state and 5,120 acres are in the other state.
The Black Ridge Canyons Wilderness forms the core of the 123,430 acres McInnis Canyons National Conservation Area. If you like wilderness areas then this might be just the place you are looking for.
View the pictures and read text above BEFORE taking the quiz.
Take the quiz and let's see how good you are and locate this wilderness area.
Quiz #14 Black Ridge Canyons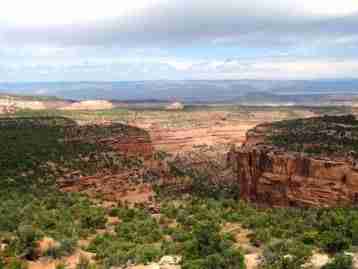 This Travel Quiz is about Black Ridge Canyons Wilderness. This is a one question quiz. The level of this test is easy.
Answer the question. If you don't know the answer, then take a guess (unless you want a guaranteed zero for the answer). More than likely the test administrator in your computer will not let you skip the answer.
This test is timed (2 min) so be aware of that.
Black Ridge Canyons Wilderness is an area you might want to visit.




Info coming soon, similar to ToyWish Offer, but requires less $$. If interested, Contact me HERE. Mention BarePaw Offer.