Central America Region of the Americas
Central America is the central geographic region of the Americas.
It connects the North American continent, with South America. This area, Central America is considered a subcontinent.
Central America consists of seven countries: Belize, Costa Rica, El Salvador, Guatemala, Honduras, Nicaragua, and Panama.
Central America is part of the Mesoamerican biodiversity hotspot, which extends from northern Guatemala through central Panama.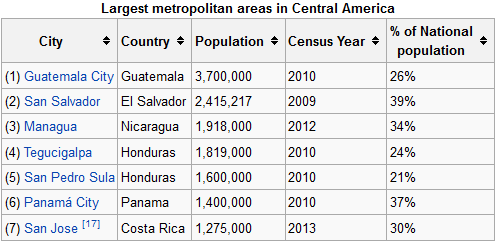 That is is a biogeographic region with a significant reservoir of biodiversity that is under threat from humans.
It is bordered by Mexico to the north, the Caribbean Sea to the east, the North Pacific Ocean to the west, and Colombia to the south-east, which is also the most southern point of North America.
Size and Population
As of 2009, its population was estimated at 41,739,000. It has a density of 77 people per square kilometer which is quite low compared to other areas. Central America covers an area of 524,000 square kilometers or 202,000 sq mi. As a comparison that size is just slightly bigger than the state of California and Kentucky combined.
Geography
The Pacific Ocean lies to the southwest, the Caribbean Sea lies to the northeast, and the Gulf of Mexico lies to the north. Most of Central America rests atop the Caribbean Plate. The region is geologically active, with volcanic eruptions and earthquakes occurring frequently. The 1976 Guatemala earthquake killed 23,000 people. Managua, the capital of Nicaragua, was devastated by earthquakes in 1931 and 1972; the latter killed about 5,000 people. Three earthquakes have occurred recently in El Salvador: one in 1986, and two in 2001. An earthquake struck northern and central Costa Rica in 2009, killing at least 34 people. In Honduras, a powerful earthquake killed 7 people in 2009.
In the region volcanic eruptions are common. In 1968 the Arenal Volcano in Costa Rica erupted killing 87 people. The three villages of Tabacon, Pueblo Nuevo and San Luis were buried under pyroclastic flows and debris. Fertile soils from weathered volcanic lavas have made it possible to sustain dense populations in the agriculturally productive highland areas.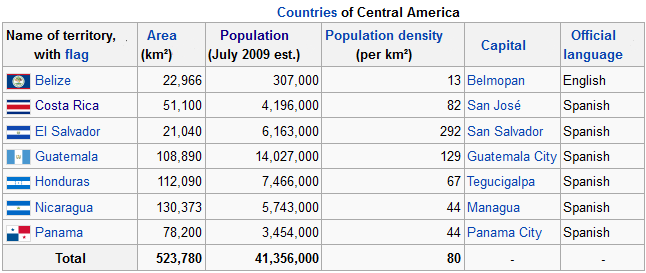 Central America has many mountain ranges. The longest of the ranges are the Sierra Madre de Chiapas, the Cordillera Isabelia and the Cordillera de Talamanca. Between the mountain ranges lie fertile valleys that are suitable for the people. Most of the population of Honduras, Costa Rica and Guatemala live in valleys. The valleys are also suitable for producing coffee, beans, and other crops.
Read about Central America then take the easy quiz. Will you remember what you read?
Transportation
The Pan-American Highway runs through Central America, and except for a 54 mile rainforest break, called the Darien Gap. The road links the mainland nations of the Americas to a connected highway system. According to Guinness World Records, the Pan-American Highway is the world's longest "motorable road". However, because of the Darién Gap, it is not possible to cross between South America and Central America by traditional motor vehicle.
What does Central America mean?
Apparently the term "Central America" may mean different things to various people in the world based upon different contexts and ideas. Here are some of the common interpretations.*
In English speaking countries, Central America is usually considered a region of the North American continent. Geopolitically, it usually comprises seven countries – Belize, Guatemala, El Salvador, Honduras, Nicaragua, Costa Rica, and Panama
Mexico, in whole or in part, is sometimes included, regardless of correctness, by Britons.
Some geographers include the five states of Campeche, Chiapas, Tabasco, Quintana Roo, and Yucatan, together representing 12.1% of the country's total area.
In Latin America, Iberia, and some other parts of Europe, the Americas are considered a single continent called America, and Central America is considered a distinct region of this continent and not a part of North America. In Ibero-America, the region is defined as seven nations – Belize, Guatemala, El Salvador, Honduras, Nicaragua, Costa Rica, and Panama – and may occasionally include Mexico's southernmost region.
Geopolitically, Mexico is considered part of North America.
Occasionally, regardless of correctness, the term Central America is used synonymously with Middle America.
Among some German geographers, Mittelamerika may be used to refer to the territories on the Central American isthmus.
The UN geoscheme defines the region as all states of mainland North America south of the United States; conversely, the European Union excludes Belize and Mexico from its definition of the region.
So as you can see there is somewhat of a quandary as to exactly what composes Central America. It can depend on where in the world one is located as to what their idea of Central America is. Although it looks fairly cut and dry when one looks at a map of Central America, it is all but that in reality.
View the pictures and read article above BEFORE taking quiz.
Take this quiz about Central America.
Quiz #3 Central America
This Travel Quiz is about Central America. There are 4 – 6 clues to help guess each answer. The level of this test is easy to medium difficulty.
Answer all questions. Each answer is worth about 20 points. If you don't know the answer, then take a guess (unless you want a guaranteed zero for the answer).
This test is timed (3 min) so be aware of that.
The cities mentioned in the article are potential cities you might want to visit. Consider each of these and other larger cities or area near one of these cities as a potential vacation destination.
---
Top 10 Destinations In Central America
Uploaded to YouTube on Nov 23, 2013
If your passion is to travel, then you may not miss this short video about the top 10 destinations in Central America.

Guatemala National Beauty HD
Uploaded to YouTube on Jan 24, 2009
Videos de Guatemala
MY video now in HD THE MOST BEAUTIFUL COUNTRY IN CENTRAL AMERICA

Central America — Costa Rican Ecotourism
Uploaded to YouTube on Mar 7, 2014
TWILA's Mike Danna concludes our Central American Profile series with ecotourism in Costa Rica. The LSU AgLeadership Class XIII experienced the rainforests on the Arenal Hanging Bridges and learned how protective Costa Ricans are of their rainforests.

Panamá Bello, Beautiful Panama
Uploaded to YouTube on Nov 7, 2013
Images of Panama City

The best place for vacation in central america – El Salvador
Uploaded to YouTube on Jun 25, 2011
We are wating for you !

Where to Go in Summer
Uploaded to YouTube on Jun 29, 2012
A new series of videos which guide you, per country, where to travel. June 2012 Nicaragua

Uploaded to YouTube on Oct 12, 2011
A revamp of Belize Tourism Board's(BTB) "Be One With Belize" video.


Special Thanks to Minister of Tourism, Hon. Manuel Heredia Jr. for allowing us to borrow some clips in an effort to market Belize and all its natural, wonder to the world.
Do you have travel perception? Buy my TravelPerception.com and I'll build you a simple travel website. CLICK HERE.