Exploring Helsinki Finland
As the Finnish capital city, Helsinki is quite upbeat and different, with a peculiar geographical location. Surrounded by a bay, Helsinki not only consists of a mainland, it also has islands and inlets as parts of its territory. Fine architecture is one of the many reasons Helsinki makes a fascinating travel spot. The city's Art Nouveau buildings are simply pleasing to the eyes, and it is well complemented by lovely cafes, museums and a selection of restaurants that have maintained their historic furniture and classic cuisine.
In a way, the capital is not really representative of Finland, as it has its own quirky and cool personality, which changes with the climate.
The city has memorable summers and seemingly desolate winters. Locals tend to stay indoors at the height of winter, when there is only 6 hours of daylight. But when the spring blooms and summer kicks in, so does the crowd, who prefer to stay outdoors, basking in the sunlight that usually lasts up to 18 hours a day.
Helsinki is known for celebrating urban design and harnessing creativity. To learn about the prominent figures behind the Finnish artistic movement, head out to the National Gallery. And if one museum is not enough, make your way to the Mannerheim Museum. Entrance fee to Mannerheim also includes an guided tour around this fascinating museum.
Topping the list of architectural masterpieces in the city is the glorious Uspenski Cathedral. This Orthodox Church forever signifies Imperial Russia's influence over Finland. Sitting on top of the hill, the cathedral does not only impress visitors with its grand design but also offers magnificent views of Helsinki.
After walking around the city center, make it a point to stop by Market Square, which functions both as a public plaza and a market place. All around this popular square, you can see food stalls, shops and cafes. Just nearby this vibrant spot is another impressive structure- the Grand Helsinki Cathedral. A tour of the entire city, with the exploration of its maritime history is not complete without visiting the star fortress on Suomenlinna Island. This historical sea base has been hailed a World Heritage Site by UNESCO.
It is not only man-made attractions that reign in Helsinki. The green heart of the city is a 10 km long Central Park, a relaxation and recreational haven to Helsinki's urban dwellers. Here, you can find gardens, hiking trails, forests, saunas and sport facilities. Other natural wonders near the city are the beautiful Sibelius Park and Nuuksio National Park , which feature lakes, forests, walking trails and other enjoyable outdoor sports.
The Helsinki-Vantaa Airport is the main airport that serves Helsinki. The airport, which facilitates about 200 international flights daily, is located 19 kilometers from the city center. Aside from hiring a taxi, you can also hop on a bus from the airport to take you to the city's Central Railway Station. Alternatively, you can connect to Helsinki via train from other major Finnish towns as well as St. Petersburg and Moscow. If you are coming from Germany, Estonia, and Sweden, daily ferry services to the Finnish capital are also available.
---
Finland's Education System
Finland has a unique education system compared to the United States and many other countries of the world. It is usually ranked at the top of all countries when it comes to education. Here is an interesting video examining the education system in Finland. According to some measures, Finland has the best educational system in Europe. You will see the emphasis is totally different than the US. Students start school later, have much less homework, are more active in projects, as well as the teacher, and there are more differences.
Watch the video for much more information. You will be surprised.
---
View the picture and read the above text BEFORE you take the quiz.
Let's see how good you are at remembering a few things about Helsinki Finland. Be sure to watch the videos after the quiz.
Quiz #65 Exploring Helsinki Finland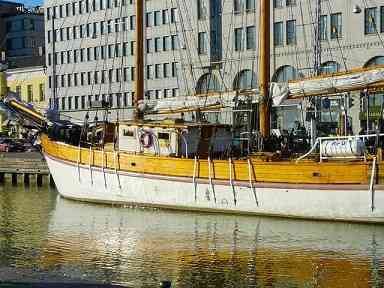 This Travel Quiz is about Exploring Helsinki Finland. This ia a True or False quiz. The level of this quiz is easy to medium.
Answer all questions. Each answer is worth about 10 points. If you don't know the answer, then take a guess (unless you want a guaranteed zero for the answer).
This test is timed (3 min) so be aware of that.
Helsinki Finland is a potential city you might want to visit and explore.
---
Helsinki Travel Video Guide
Uploaded to YouTube on May 23, 2014
Helsinki, the Daughter of the Baltic, the Gibraltar of the North, a dividing line between east and west and a modern and liberal minded metropolis. Founded in 1550 by Swedish king Gustav I as a as a trading centre and in 1812, Csar Alexander I made it the capital of the Principality of Finland.
The Senaatintori is located in the centre of the city. The square is dominated by a monument and surrounded by a number of fine Neo-Classical buildings. Csar Alexander II included public, ecclesiastical and academic buildings in the square, including government offices, a cathedral and university.

Uspenski Cathedral is situated at the city's southern harbor and is the largest Russian Orthodox church in both western and northern Europe. Built in 1868 according to traditional Russian design its exterior is of red brick and it is crowned by 13 gilded domes.
The Finlandia Talo is Helsinki's concert and congress centre, a work of art that encapsulates the building and design philosophy of Alvar Aalto, one of Finland's most prominent architects of the 20th century. The white-colored opera house was completed in 1993. It was a daring project as the city's treasury was empty! But music reigned supreme and today the building is an important part of the city's cultural life.
Helsinki is a captivating city and has rightly been declared Europe's capital of culture.