Ikaria Island – A Greek Land of Myths
Ikaria, also spelled Icaria, is a Greek island in the Aegean Sea. It is 10 nautical miles southwest of Samos, another Greek island in the eastern Aegean Sea. It is one of the middle islands of the northern Aegean, 98 sq mi in area with 102 miles of coastline and a population of 8,423 inhabitants as of 2011.
The island is mountainous for the most part. It is crossed by Aetheras range, whose highest peak is 3,402 feet. Most of its villages are nestled in the plains near the coast, with only some of them on the mountains. Ikaria has a typical Mediterranean climate.
Ikaria has a tradition in the production of strong red wine. Many parts of the island, especially the ravines, are covered in large bushes, making the landscape a lush green color. Aside from pets and small goat herds who make their presence known with their bells, disturbing the serenity of the island, there are a number of small wild animals to be found. Creatures such as martens, otters, jumping spiders and toads.
Greece has a lot in store for travelers. There is so much history and beauty that easily capture the imagination of people from all over. But because of so many travel options in the country, one place that is easily overlooked by tourism is the remote island of Ikaria.
The island is one of the few Blue Zones in the world, where people live long lives and the rates for diseases like diabetes, cancer, and dementia are very low. Longevity experts believe that this phenomenon is due to the island's topography. Residents who live on the island are accustomed to walking from one place to another several times in a day. Physical activities are already part of their lifestyle, whereas in some parts of the world, people are still struggling to find time for exercising.
The island is characterized as a narrow landmass in between Mykonos and Samos, and is hardly touched by modern tourism. Ikarians are known to have a lot of local pride and are against dominating outside influences. Many tourists mistake this as unfriendliness, but if you understand their behavior and get past this so called "eccentricity", you will be one of the few who will experience the untapped beauty of Ikaria.
Ikaria is an island named from myths. In fact, Ikaria was believed to be named after the Greek mythology character Icarus, an inventor who landed into a sea area near island's shore when his man-made wings melted. To the east of the island is the area of Drakano, which is said to be the Greek god Dionysus' birthplace. Here, you will find remnants of an old circular castle built around 4th century BC. In the vicinity of Nas is a temple of the goddess Artemis, which is depicted as the dwelling place for Nayads or water nymphs.
One of the best things to do in Ikaria is explore nature, and hiking is an ideal way to do just that. The island has many roaring rivers, gorges, thick vegetation and high mountains filled with trees like oak, cypress and pines. Some of the best places to hike include the forest of Radi, one of the oldest in the Balkan peninsula, Chalaris canyon, and Aeolian park.
Visiting the villages of Ikaria gives you a glimpse of the daily lives of the locals. Agios Kirykos is not only the main port; it is also the capital of the island. The place boasts a long marine tradition, which lives on in Agios' archaeological museum. Evdilos is another port village in the north known for its traditional houses and cobbled streets.
Other fascinating villages include Karavóstamo, Karkinágri and Christós situated in the mountainous region of Raches. Shops in this area are open until evening time for those visitors looking for mementos of their visit.
The wild beauty of Ikaria extends to its beaches. There is a wide range of beaches around the island for you to choose and enjoy. Some of them are sandy while others are pebbly. The resort village of Armenistis has the most popular beaches on the island, namely Messakti and Livadi. This is also where you can find the grandest hotels in Ikaria.
In Agios Kirykos, the beaches of Prióni, Lefkada, Faros, Drakano can be found. There are also other more isolated beaches that you can go to like the Seychelles Beach near Magganitis village; as well as Fles, Kyparissi and Fytema in Evdilos.
All in all, Ikaria Island offers much to explore and as it is mainly off the tourist radar, your visit here can be a lot of fun as well as a visit of discovery.
View the pictures and read the above text BEFORE taking the quiz.
Take the quiz and let's see if you learn a few things about AIkaria Island.
Quiz #42 Ikaria Island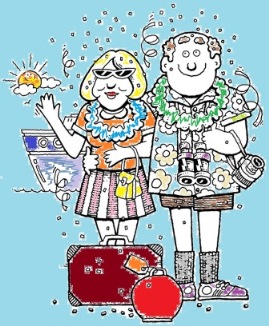 This Travel Quiz is about Ikaria Island. This quiz is a True or False quiz. The level of this quiz is easy.
Answer all questions. Each answer is worth about 20 points. If you don't know the answer, then take a guess (unless you want a guaranteed zero for the answer).
This test is timed (2 min) so be aware of that.
Ikaria Island is a potential Greek island you might want to visit.
For another quiz about islands click the link below.
---
Greek Island a Fountain of Youth
Uploaded to YouTube on Jul 26, 2013
Residents of Ikaria are healthier and live longer than the rest of us — so what's their secret?