Adventure at Wadi Musa, Jordan – Trekking, Riding Donkeys and Indulging Food
Because of Petra's archeological significance and obvious tourist draw card, Wadi Musa sprung up with its collection of hotels, restaurants and shops for those who aren't so keen on camping out or taking the long way back to their hotel in another part of the province.
Wadi Musa's growth is tightly tied to tourism, and it is definitely one of those places where tourists can be given over-the-top prices if they go without ample preparation and planning. But beyond the touristy prices and the often tacky come-ons of different hotels and service providers, you will find a beautiful, honey-colored place that will make it all worth it.
Wadi Musa literally means 'Valley of Moses' but these days travelers refer to it as the 'Guardian of Petra.'  From Wadi Musa you can make arrangements for different kinds of tours into Jordan's treasured archeological city. Most popular of these archeological sites are the rock-cut paths, The Great Temple of Petra, El Deir, Silk Tomb, Obelisk Tomb and the Triclinium.
A local guide can act as an aid. Be ready to pay for the best ones because the guide/aid you get can really make or break the experience. Unless you can speak the language, you have to rely on the guide to get you a means of transportation and help you find good foodie places apart from actually taking you to the places you want to visit.
Trek to the Summit
An interesting place to start your tour is the High Place of Sacrifice. It can be a pretty challenging hike from the valley floor as it is but it is a bigger challenge to keep your footing. The sandstone steps leading up to the summit have been extremely worn and can be slippery. As is for the rest of this desert country, there is a fine cover of sand on the steps so tread softly and watch your step to avoid injury. This is especially true for the trip down.
The whole trek is at least two hours. When you get to the top you will be rewarded with a stunning view of Wadi Musa and Petra. At its peak, enjoy your brief study of obelisks and carvings surrounding the area. Today these architectural sights are in complete ruin, partly due to Bedouin attacks hundreds of years ago and the inevitable passage of time.
Ride a Donkey/Camel
If the trip up to the High Place of Sacrifice is too much for you but you do not want to miss the view, there are several places nearby where you can rent a donkey. Not only do these beasts of burden take the hike's burden off of you, a donkey or camel ride is an essential part of the Wadi Musa/Jordan experience. Make sure you get on one before you head out as it is quite an experience for most visitors.
Indulge on Food
Jordanian food is familiar if you have ever had any sort of Persian food. However, food in Jordan has lighter spice and cinnamon often makes an appearance even in savory dishes. When in Wadi Musa, do not miss the chance to try their national dish, mansaf, a dish of lamb cooked with dried yogurt and served with rice or bulgur.
Getting to Jordan
Petra is located in the Kingdom of Jordan, for information on getting in to Jordan itself see Jordan: Get in and for entry requirements see Jordan: Obtaining a visa.
Day visitors to Jordan pay 90 JD for the Entry Ticket to Petra. Overnight and cruise tourists are charged 50 JD, 55 JD and 60 JD for one, two, and three day access respectively. Jordanian University students with ID pay only 1 JD for the entry fee.
To get to Petra, buses, mini-buses, taxis, and car rentals are available. Take note that the more convenience you enjoy, the higher the cost you pay. Guided tours are costly but in a country where there are not so mmany people speaking English, you might want to consider extending your budget to maximize your experience.
---
Petra, Wadi Musa, Jordan, March 2012 – Indiana Jones trail
Published to Youtube on May 6, 2012
View the pictures and read article above BEFORE taking quiz.
Take this quiz about Wadi Musa, Jordan and see how much you've learned or remember.
Quiz #87 Wadi Musa, Jordan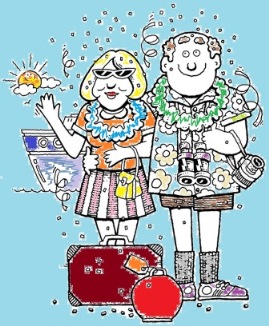 This Travel Quiz is about Wadi Musa, Jordan. This is a true/false quiz. The level of this quiz is easy.
Answer all questions. Each answer is worth about 10 points. If you don't know the answer, then take a guess (unless you want a guaranteed zero for the answer).
This test is timed (2 min) so be aware of that.
Wadi Musa, Jordan is a potential city you might want to visit if you are in Jordan.